System Trace Macrocell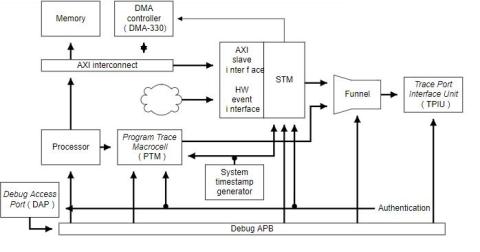 Copyright © 1995-2021 Arm Limited (or its affiliates). All rights reserved.
The Arm CoreSight System Trace Macrocell (STM) is a trace source that supports multiple processor cores and other components such as Direct Memory Access (DMA) controllers to pass trace data into the debug system. 
It is a successor to the Instrumentation Trace Macrocell (ITM) using an AXI slave interface to provide higher throughput of trace data from SoC components. It also implements a hardware event interface to generate trace when signals are asserted on it. 
It supports use of the CoreSight authentication signals to control debug permissions.
Explore This Technology
Actions
Comments
Add new comment
To post a comment on this article, please log in to your account. New users can create an account.