Physical Design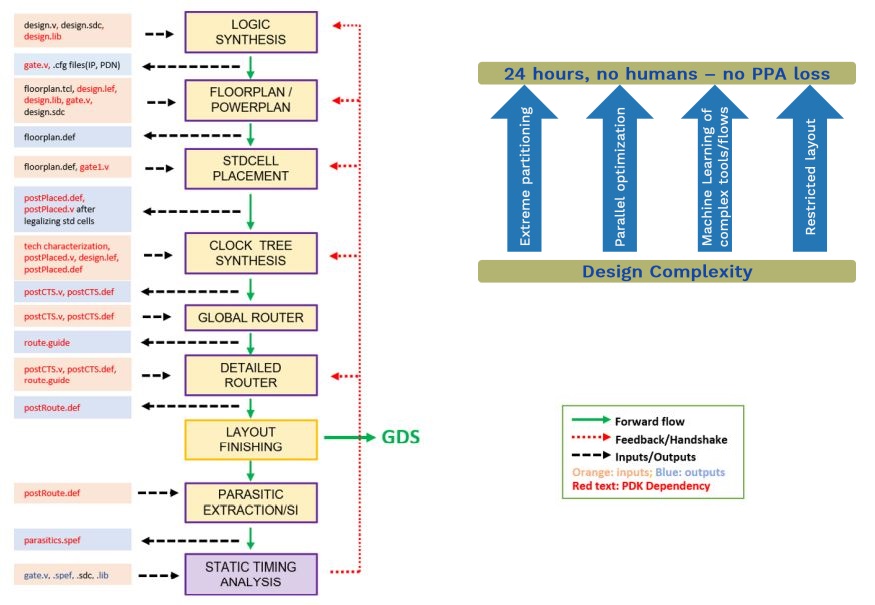 An example flow by OpenROAD, https://theopenroadproject.org/
The design flow uses various tools and files during stages of processing to refine the abstract design into the final IC layout artwork of the GDSII file that is needed for foundry fabrication. The GDSII file contains layers that of artwork that are used to create the masks needed for IC fabrication. Various stages look to optimise the placement of items in the netlists and the routing of interconnections between them without breaking any of the design or manufacturing constraints. 
The major Electronic Design Automation tool vendors have various tools to support the Physical Design flow stages. The OpenROAD project is developing a fully autonomous, open-source tool chain for digital layout generation with an initial focus on the RTL-to-GDSII phase of system-on-chip design. The aim is to implement automated flows using integration of machine learning, problem partitioning and decomposition, and parallel/distributed search and optimization.
Tool chains support varies proprietary or open file formats for intermediate results. 
Explore This Design Flow
Experts and Interested People
Members
Actions
Comments
Add new comment
To post a comment on this article, please log in to your account. New users can create an account.